COVID-19 in Africa: Focus on West Africa
As a commodity driven region, West Africa's economies have remained susceptible to external shocks in the past.  Declines in migrant remittances, commodities export earnings and weakening currencies have left countries such as Nigeria staring at their deepest recession since its financial crisis in the early 1980s.
As a result of plummeting oil prices, where the oil sector contributes up to 60% of the Nigerian government's revenues, the COVID-19 pandemic, declining investor confidence and a currency devaluation, the IMF has forecasted Nigeria's GDP to contract by 3.4% in 2020. To help in weathering this economic downturn, the IMF recently approved US$3.4 bn in emergency financial assistance to the Nigerian government.
In Ghana, higher gold and cocoa prices are set to soften the blow of lower oil prices, the COVID-19 pandemic and a weakening currency to the economy. The economy is set to be further aided by the IMF's US$1 bn additional funding and adoption of a debt service moratorium on existing bilateral loans.  While it has been lauded as one of the more resilient economies across Sub-Saharan Africa, Ghana's GDP growth rate is set to slow to 1.5% in 2020, down from 6.1% in 2019, and rebound to 5.9% in 2021 according to the IMF.
Côte d'Ivoire's economy is expected to substantially decline owing to the decline in export earnings, subdued investor confidence and adverse economic impact arising from government's interventions towards mitigating the COVID-19 pandemic. To help meet its urgent balance of payment needs, which have stemmed from this economic downturn, the IMF has approved the disbursement of US$886.2 million to Côte d'Ivoire. With an upcoming election later in the year, the country's GDP growth rate is set to decline to 2.7% in 2020, down from 6.9% in 2019, and rebound to 8.7% in 2021 according to the IMF.
The pandemic has caused for significant concerns to be raised as to the medium to long term ability for West African economies to support their economies, particularly owing to their rising debt positions and undiversified economies.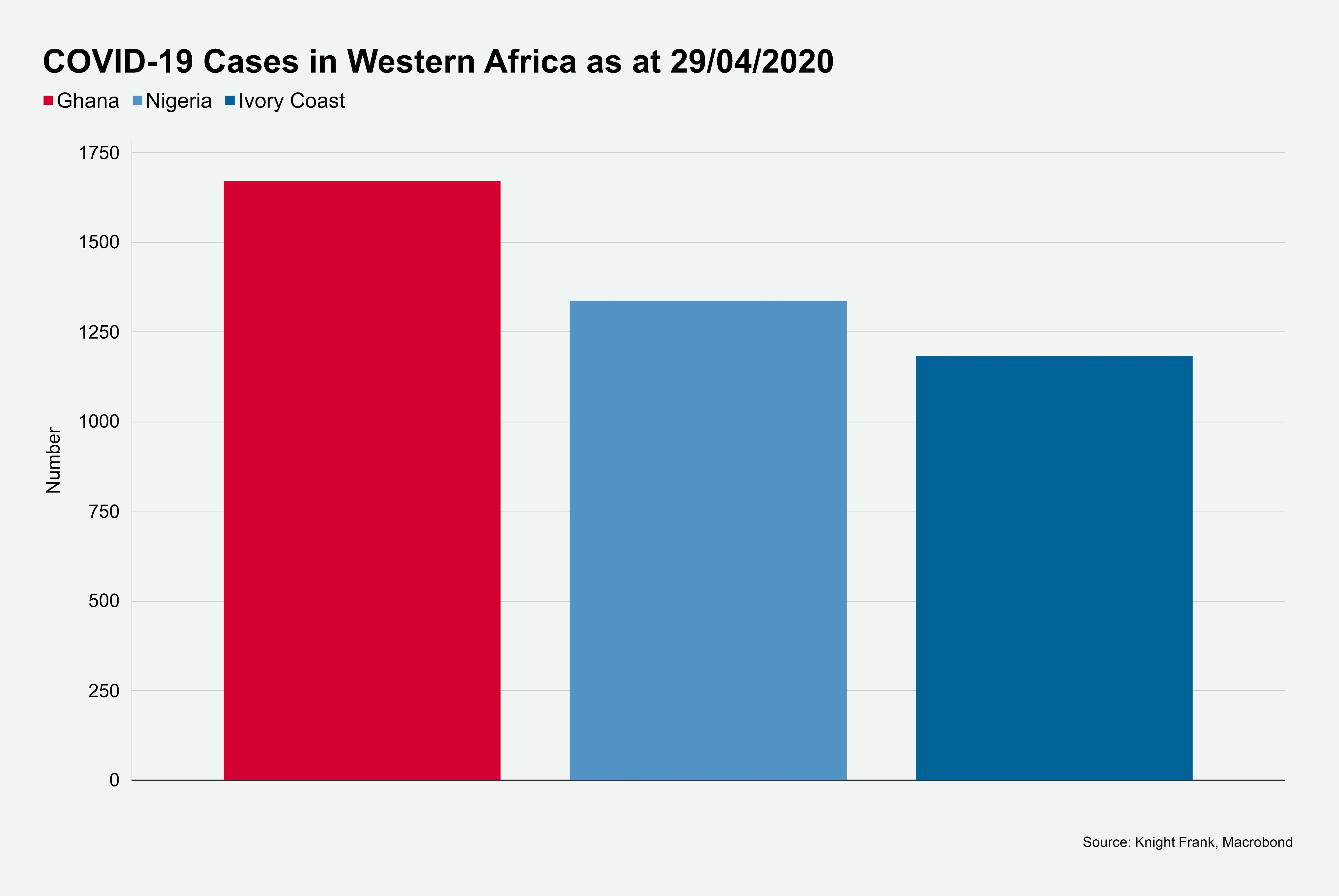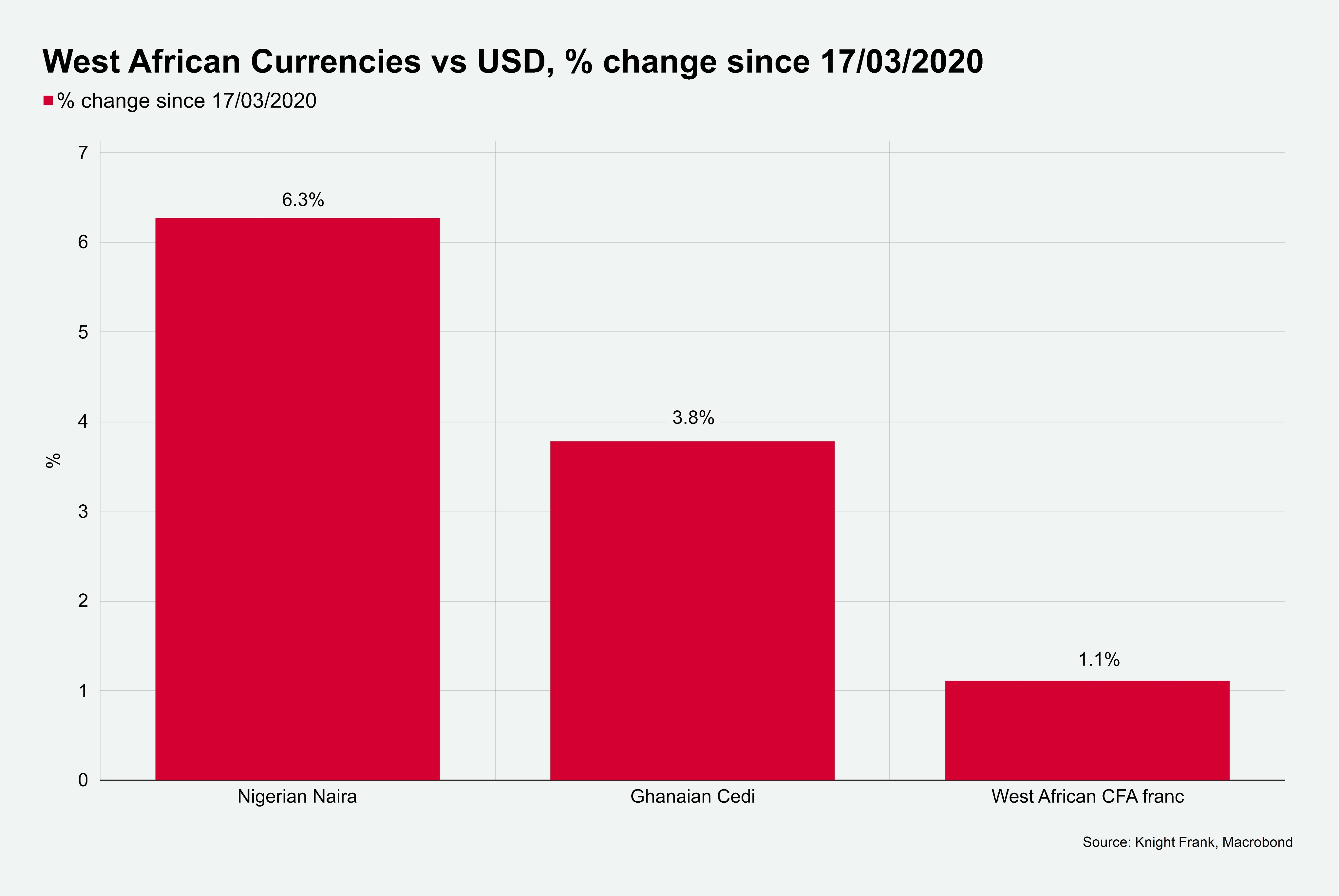 Regional Policy and Government Initiatives Tracker
Across the West African region, weak public finances have limited the scale of policy responses towards curbing the spread of the virus and softening the impact on regional economies. Below, we provide a summary of a range of government policies and interventions and briefly analyse the potential impacts that these may have on the real estate sector.
Nigeria
Fiscal & Monetary Policies
A fiscal stimulus package in the form of a COVID-19 intervention fund of N500 billion ($1.4 billion), has been approved by the President to support healthcare facilities, provide relief for taxpayers, and incentivize employers to retain and recruit staff during the downturn
Regulated fuel prices have been reduced, and an automatic fuel price formula introduced to ensure fuel subsidies are eliminated
Revision of the social register from 1 million households to 3.6 million to help cushion the effect of the lockdown
The Central Bank of Nigeria (CBN) reduced interest rates on all applicable CBN interventions from 9% to 5% and introduction of a one-year moratorium on CBN intervention facilities
CBN has further created a N50 billion ($139 million) targeted credit facility
CBN initiated a liquidity injection of 3.6 trillion (2.4 percent of GDP) into the banking system, including N100 billion to support the health sector, N2 trillion to the manufacturing sector, and N1.5 trillion to the real sector to impacted industries
Regulatory forbearance was also introduced to restructure loans in impacted sectors
The official exchange rate has been adjusted by 15%, with an ongoing unification of the various exchange rates
Government Interventions
Suspension of International Flights
Closure of all education institutions
Lockdown imposed in Lagos, Abuja and Ogun states
Work at home has been encouraged across several states
Ghana
Fiscal & Monetary Policies
The Government has agreed with investors to postpone interest payment on non-marketable domestic bonds held by public institutions to fund the financial sector clean-up for about GHc 1.2 billion
The Monetary Policy Committee (MPC) further lowered the policy rate cut by 150 basis points to 14.5 % from their previous revision
MPC has lowered the primary reserve requirement from 10% to 8%
MPC further lowered the capital conservation buffer from 3% to 1.5%
MPC has revised the provisioning and classification rules for special loans categories
Government Interventions
Adoption of social distancing measures
Travel restrictions
Closure of all learning institutions
Restricting public gatherings to 25 people
Border closure to travellers
The partial lockdown on major urban areas has now been lifted
Côte d'Ivoire
Fiscal & Monetary Policies
Creation of four special funds aimed at the informal sector, SMEs, corporates and the agricultural sector to mitigate effects over the next two years
The regional central bank (BCEAO) for the West- African Economic and Monetary Union (WAEMU) adopted the full allotment strategy at a fixed rate of 2.5% allowing banks to meet liquidity needs at a lower rate
BCEAO further announced on March 21st an extension of the collateral framework to access central bank refinancing to include bank loans to 1700 prequalified private companies
BCEAO also announced a framework for banks to allow the postponement of COVID-19 related payment difficulties for a 3 months renewable debt service period
BCEAO also announced the creation of a special 3-month refinancing window at a fixed rate of 2.5% for limited amounts of 3-month "Covid-19 T-Bills" to be issued by each WAEMU sovereign to help meet funding needs related to the current pandemic
Government Interventions
State of emergency declaration
Curfew imposition between 9pm to 5am
International travel ban except for humanitarian aid purpose
Limiting public gatherings to 50 people
Movement restrictions between regions
Closure of learning institutions and recreational facilities
Source: IMF Policy Tracker
Impact on Real Estate Sectors
Google's COVID-19 community mobility index, which tracks changes in visits and time spent at various locations compared to a baseline from January 3rd to February 6th 2020, shows that as a result of these government interventions we have seen a decline in activity in areas associated with workplaces and retail and recreational destinations.
Retail and recreational activity declined the most as residents adhered to strict new social distancing protocols. However, the relative underdevelopment in the sector across the region is expected to assure its market resilience in the medium term to long term. Workplace activity in general has also witnessed a decline, however as certain economic activities are deemed critical, we have not seen the same decline in workplace activity as compared to the retail and recreational sector. In terms of market activity in the commercial sector, active deals have halted and are undergoing further renegotiations. The exception to this trend has been mixed-use developments which have showcased levels of flexibility and adaptability to change. As expected, activity in residential areas increased considerably over this period.  The need for affordable housing has been exacerbated as working class demand remains high.
However, these trends are not uniform across countries and are dependent on the severity of government interventions. Countries, such as Nigeria and Ghana which had imposed partial lockdowns across their major urban centres recorded strong declines in their respective retail and workplace activity and considerable growth in their residential activity. Recreational and workplace activity in Ghana is expected to start to increase over the coming weeks as the lockdown in major urban centres is lifted. Côte d'Ivoire, as a result of its state of emergency declaration and subsequent quarantine of Abidjan from the rest of the country, has also recorded significant declines in its retail and workplace activity and growth in residential activity.