Now is the time to buy: the best properties for sale in France
The combination of lockdown restrictions easing and the end-of-year Brexit deadline looming has proved itself to be a catalyst for demand from British buyers looking to invest in French property
France has always been one of the top destinations for British second-home buyers. It's conveniently close with multiple transport links, offers wonderfully diverse culture, landscape, scenery and excellent value for money when it comes to property investment.
Now, with the recent announcement of the air bridge between the UK and France, as well as the possibility that regulations around buying property may change post the current Brexit deadline of the 31st December 2020, there has been a significant uptake in the number of enquiries from investors looking to secure a second home in the next six months.
Edward de Mallet Morgan, partner, super-prime sales at Knight Frank explains: "The top end of the residential real estate market in the Paris market seems to have picked up a lot in the last couple of weeks with increasing enquiries from all around the world – not only for apartments with monument views but also for houses with gardens and outside space.
Albeit interest for the top end of the market in Paris has always been globally mixed, just like other capital cities, we have noted a particular increase in interest and enquiries from buyers from Asia."
So, if you're thinking of securing your own slice of joie de vivre, here are some of our best French properties that are currently on the market.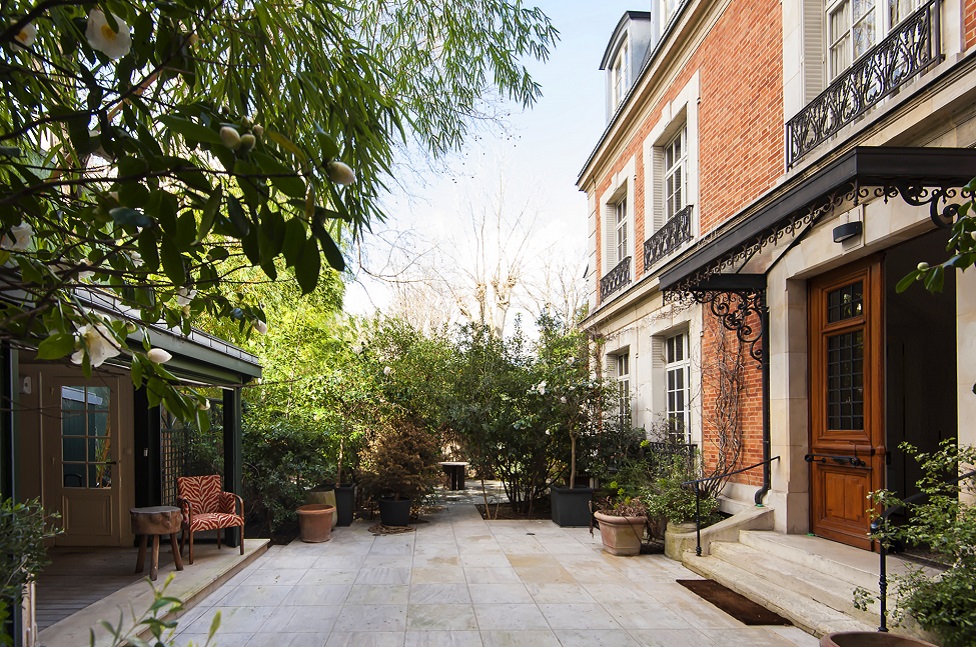 Located steps from the Luxembourg Gardens and Le Bon Marché, this extremely private town house is nestled away behind the St Germain Haussmann façades in the 6th Arrondissement, with its own secret garden facing the south-west and four distinct levels of living.
The house benefits from a recent renovation and is fully air conditioned throughout. The private garden is truly rare for the area and benefits from direct sunlight throughout the day. This is a very peaceful setting in an authentic Parisian neighbourhood, from which you can fully enjoy everything that this magical city has to offer. There is also a guest apartment and street-facing boutique shop plus a parking garage on rue de l'Abbé Grégoire to complete this lovely Parisian home.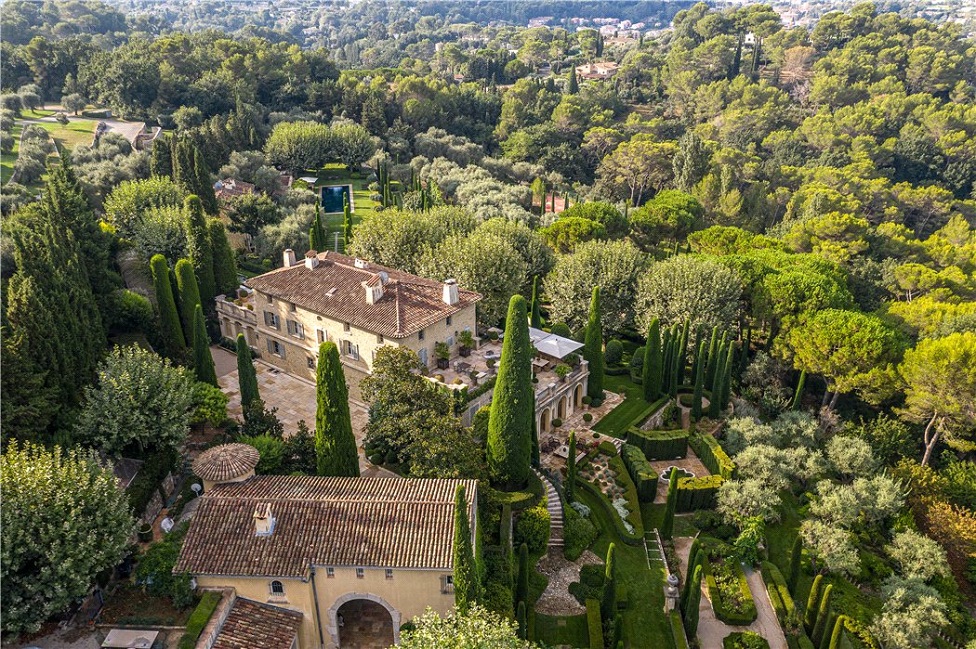 Manoir de Pigranel is a unique refurbished nine bedroom Provençale style chateau located on the outskirts of the old village of Mougins, surrounded by rolling countryside, protected forest and national parkland.
Filled with an abundance of pine, olive and cypress trees, Manoir de Pigranel is the perfect base to soak up all that the French Riviera has to offer when it comes to outdoor living. The surrounding gardens and grounds have been thoughtfully designed together with renowned French landscape architect, Jean Mus, inspired by Provençal and Italianate gardens, creating an emotive and wonderfully peaceful oasis. Offering a prolific rose bed with over 750 roses, an array of soothing water features, immaculate topiary, picturesque fragrant lavender fields and 350 Niçoise olive trees, the dramatic views from this south-facing setting are simply the crowning feature.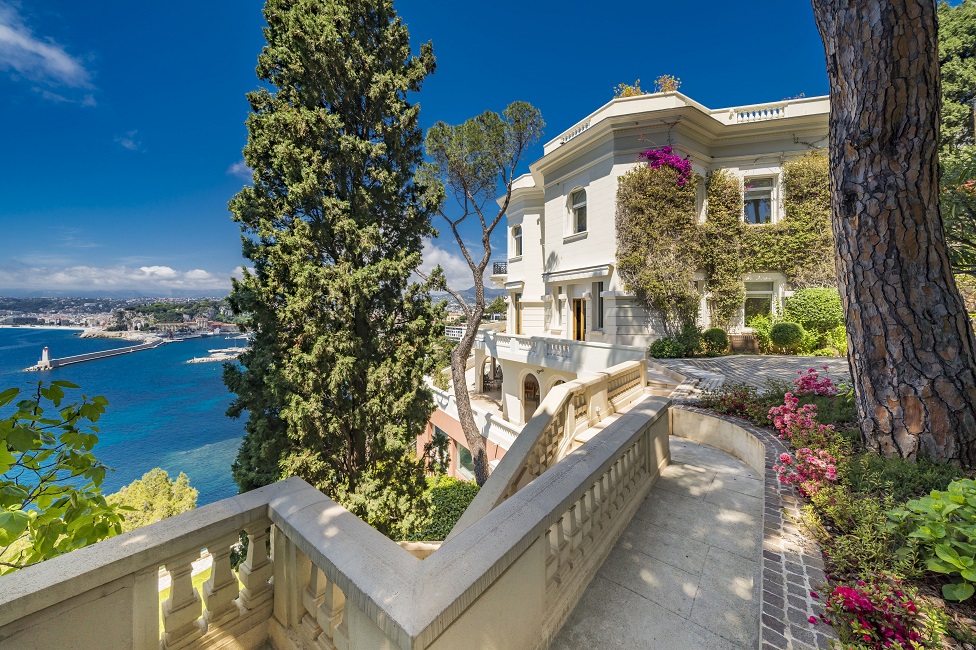 One of the wonderful things about the French Riviera is the sense of magic – a favourite haunt of royal families as well the likes of Coco Chanel, Pablo Picasso and Grace Kelly. In keeping with its star-studded reputation, this beautifully located waterfront home, Villa Le Roc Fleuri on the Cap de Nice, is the former residence of none other than the original 007 agent, Sean Connery.
Within easy reach of Nice, Cap Ferrat and Monaco, this circa 1,000 sq mt Belle Epoque styled villa is perched on a hillside amongst an oasis of beautiful, newly renovated terraced gardens running down to the sea, with an indoor swimming pool, outdoor saltwater swimming pool, two independent guest villas and jaw-dropping views along the glittering Cote D'Azur.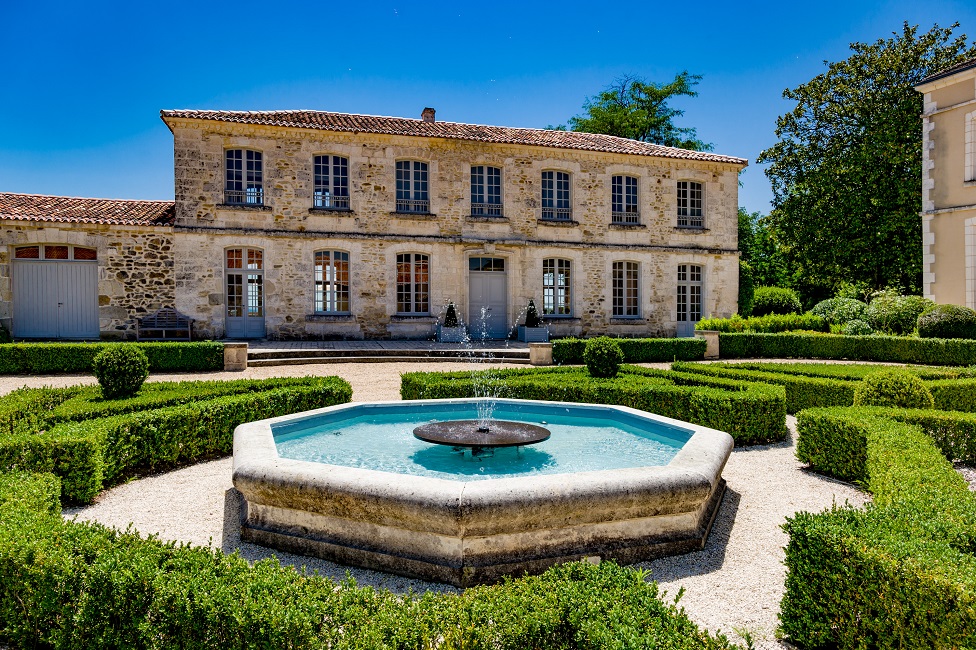 Renovated to an exceptional standard and perched in an idyllic setting with remarkable views, this stunning family home offers comfortable accommodation set across two cool and contemporary chateaus, with additional accommodation for a caretaker, perfecting for hosting a large number of guests.
Set in approximately 68 hectares of grounds of which approximately 40 hectares is glorious woodland and 25 hectares is pastureland, the chateau is approached along a beautiful tree-lined driveway with a stone gate and an enchanting courtyard.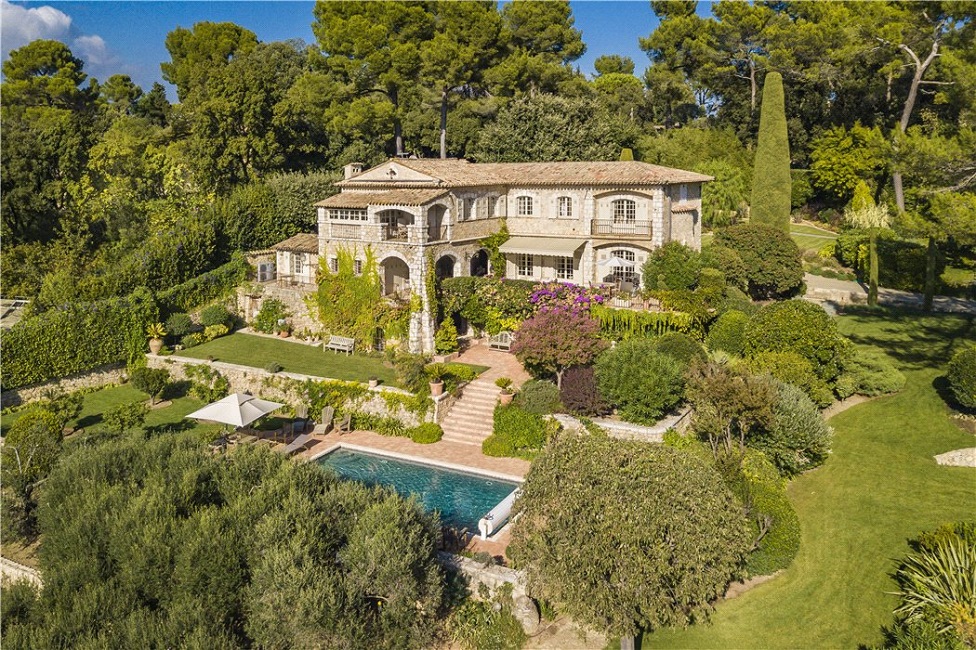 This beautiful family home is located in a prestigious neighbourhood of Mougins, offering breath-taking accommodation which opens onto elegant gardens. Its raised position gives way to magnificent views over the Esterel mountains and onto the glittering Mediterranean.
A spacious and elegant family home, this Provencal house benefits from further guest accommodation, as well as a two bedroom caretaker's house, 6,500 sq m of beautiful gardens with a swimming pool, summer kitchen, and parking for several cars.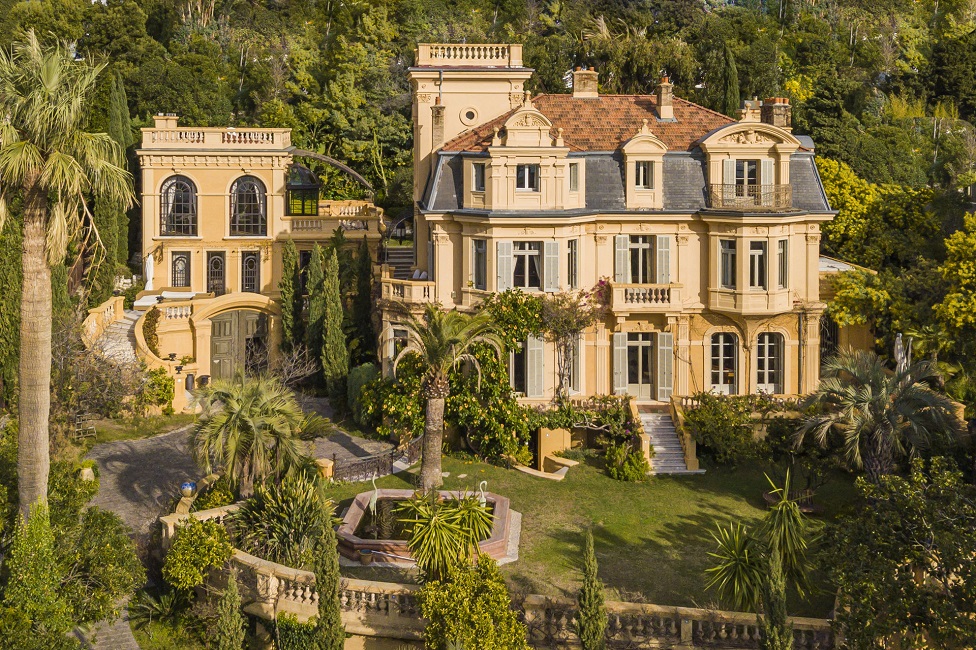 On the French Riviera, stands this entirely renovated and truly unique nineteenth century mansion. Nestled in the Mediterranean gardens and offering a breath-taking panorama of the Bay of Cannes, it remains unoverlooked and in a peaceful environment, and yet just seven minutes away from the buzz of the city centre, restaurants and exciting nightlife of Cannes Croisette.
The main villa comprises six double bedrooms, two service rooms and a dining room for 22 guests. There is a beautiful terrace with a patio, a wine cellar, billiard and a cinema room. Two separate guest suites with exceptional onyx bathrooms. The Orangeries boasts a marvellous reception room situated near the swimming pool and suites, perfect for special events.
This property also includes a splendid Hammam made in marble, an outside swimming pool with a waterfall and a fully equipped summer kitchen ideal for cocktails and aperitifs by the pool. The nightclub is elegantly furnished, fully equipped with sound and light systems, and can receive up to two hundred guests or can be easily converted to a garage. The caretaker's house is located at the entrance of the property and has two apartments inclusive of a kitchen, bedroom and bathroom.